Public Safety Program
CapMetro is broadening its Public Safety program to better serve customers, staff, and the community, better positioning the agency to serve the Central Texas of today and the transit system CapMetro is building for tomorrow.
Now Hiring: Chief Administrator - Transit Police
CapMetro is in the process of recruiting our first Police Chief for our Public Safety Program. Visit the job description below and please share with your community and extended networks to help us recruit qualified candidates!
To help us fill this role with the best candidate, we are also seeking community input on leadership qualities for this position.
Public Safety Approach
Part of creating a modern approach to public safety is rethinking the roles and responsibilities of its team members. We have identified that our need for law enforcement support is specific, and the majority of our public safety work involves responding to incidents that are disruptive, but non-violent. This means we are changing how we respond to calls and how to promote customer and staff safety.
Our multi-pronged approach features:
Public Safety Ambassadors who are as prepared to sell a pass or give directions as they are to perform a security function
On-staff social workers to respond to quality of life issues on the system and provide Mental Health First Aid training to CapMetro employees
More security cameras and safety infrastructure on vehicles and at facilities for faster identification and handling of issues
Transit-focused police officers for specific instances when law enforcement is truly needed
Participants and beneficiaries include bus and rail operators, customers and community members.
Public Safety Ambassador
Community Intervention Specialist
Transit Police
As Central Texas and our transit system continue to grow, CapMetro faces a number of public safety challenges:
Regional growth
Availability and flexibility of staff
Service area across multiple jurisdictions
Special event management (larger events, held more often)
The Public Safety program addresses these challenges in the following ways:
More efficient use of resources
Shorter response times to staff and customer concerns
Phased response to incidents, beginning with ambassadors and then police officers
Police officers able to focus on incidents that need law enforcement
Coverage across multiple cities and counties
Direct control over training, staffing and policies
Public safety staff trained for the transit experience and aware of the specialized nature of transit operations.
These moves will create a Public Safety program that is the right size for today's system and able to support the growth of our region, the services we're planning for tomorrow and the ridership that will come as a result of our Project Connect expansion program.
Community Involvement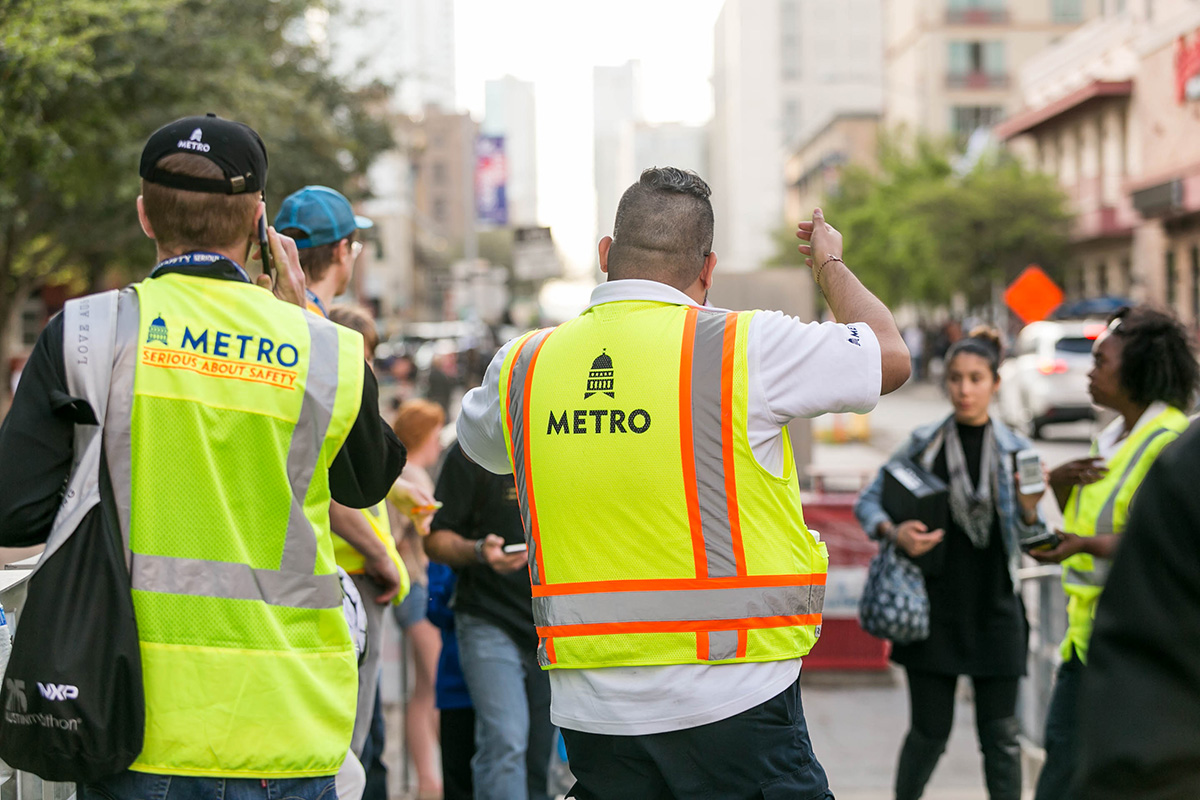 Public Safety Advisory Committee