About TOD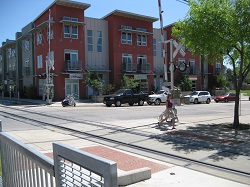 Plaza Saltillo Station
Transit-oriented development, or TOD, is a pattern of urban form or city design that genuinely integrates walking and biking with buses and trains by recognizing the importance of smaller block sizes, compact growth, shade, places to sit and buildings with shop fronts, so that many options for living, working and traveling are safe and achievable by most people.
What is TOD?
TOD is not a building or a project; it's a pattern of development that is:
Compact, relatively dense development
Within walking or biking distance of transit
A mix of uses – housing, jobs, services, shopping and fun
Safe, walkable, interconnected and lively
How is TOD implemented?
TOD is a pattern that can take a variety of forms and can vary by:
Mix and kinds of uses
Levels of population, jobs and visitors
Kind of destination – marketed to the region or supportive of local neighborhoods
Scale and character of buildings, streetscape and neighborhood
See our Typology page for more details on the kinds of TOD in Austin.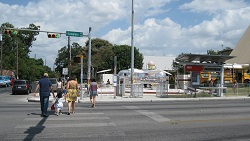 SoCo Station
TOD is an urban design form that is less car-centered, with priority on planning places that attract people of all ages, incomes, and abilities and can simplify daily life, saving time and money. Transit-oriented places provide options so people can live, work, play and gather in places that work for them.
Removing barriers to transit-oriented development and improving multimodal first- and last-mile connections around high-capacity transit stations also transforms transit into a far more robust travel option, within both established neighborhoods and emerging areas. SoCo Station will be:
Compact and dense relative to its surroundings – allowing more people to live, work, shop or go to school within walking distance of the station
A rich mix of land uses – strengthening the link between transit and development, creating places open 24/7 and allowing efficient use of the transit system
A great public realm – featuring pedestrian-oriented development with a grid of small, navigable blocks, sidewalks throughout, active uses at street-level, attractive amenities, lighting and way-finding
A new approach to parking – requiring less dedicated parking, shared as much as possible and designed so as not to dominate the visual or pedestrian environment
Capital Metro has developed a Transit-Oriented Development Guide that provides further specifics on TOD planning principles as well as a Transit Design Guide.
Transit service benefits the entire Austin region, in more ways than you might think. Supporting vibrant neighborhoods provide a wide range of advantages.
Transit keeps Austin moving forward
TOD allows communities to grow - building the tax base without increasing congestion
Austin MSA has a population of 2 million, ranked the 16th largest GDP per capita in the US.



Intermodal links to transit help build strong neighborhoods.
Businesses can better retain employees by providing access to walkable urban environments, which has been noted as a key attractor for young workers.
The creation of employment hubs within a network of places makes travel more efficient and consumes less land.
TOD allows communities to grow - building the tax base without increasing congestion.
Communities best served by transit produce 78 percent fewer transportation emissions.
Residents of the most walkable areas of the country drive 26 percent fewer miles per day than those living in the most sprawling areas.
---
TOD is fiscally prudent and makes good planning sense
Development at high-capacity transit stations and transit centers directly impacts the community by being well-designed, walkable, and transit-centered
Development at high-capacity transit stations and transit centers directly impacts the community by being well-designed, walkable and transit-centered.



Residential property value near rapid transit out performs others by 40 percent.
Retail businesses in transit and pedestrian friendly areas enjoy sales as much as 88 percent higher than those located elsewhere.
A fair market return is expected on properties and improvements owned by Capital Metro.
---
Customers are priority 1
The enhancement of transit patron experience emanates from great connections, conveniences, and services
80-90 percent of the workforce commuting from the northwest service area commutes daily into Austin and nearby cities.



The enhancement of transit patron experience emanates from great connections, conveniences and services.
Location efficiency is key to realizing true housing affordability. The average household spends 18 percent of their annual budget on transportation. Providing travel options beyond driving for commuting and errands can reduce this to one-half (9 percent).
Living near reliable transit saves people up to $10,000 a year on transportation costs.
Low-income residents near quality transit have access to 25-50 percent more jobs.
Adults who walk, bike and take transit have obesity rates three times lower than those who typically drive.
---
Driving into the future
TOD capitalizes on existing stations and infrastructure by connecting people to regional employment and activity centers.
Cities in our service area have a demonstrated willingness to partner for leveraging investment over the long term.



TOD capitalizes on existing stations by connecting people to regional employment and activity centers.
Using form-based code, flexibility and diversity of uses are encouraged.
Neighborhoods with a variety of housing types offer choices to different ages, needs and tastes.
Bike and pedestrian connections are either planned or in place to enhance travel options and to connect properties to transit hubs.
High-capacity transit service isn't the only ingredient needed for the areas around a transit station to become great transit-oriented neighborhoods. Capital Metro considers the following four dimensions when assessing the readiness of neighborhoods for TOD. See our Typology and Implementation pages for more details about how Capital Metro is measuring readiness for TOD in Austin and how various stakeholders can help it succeed.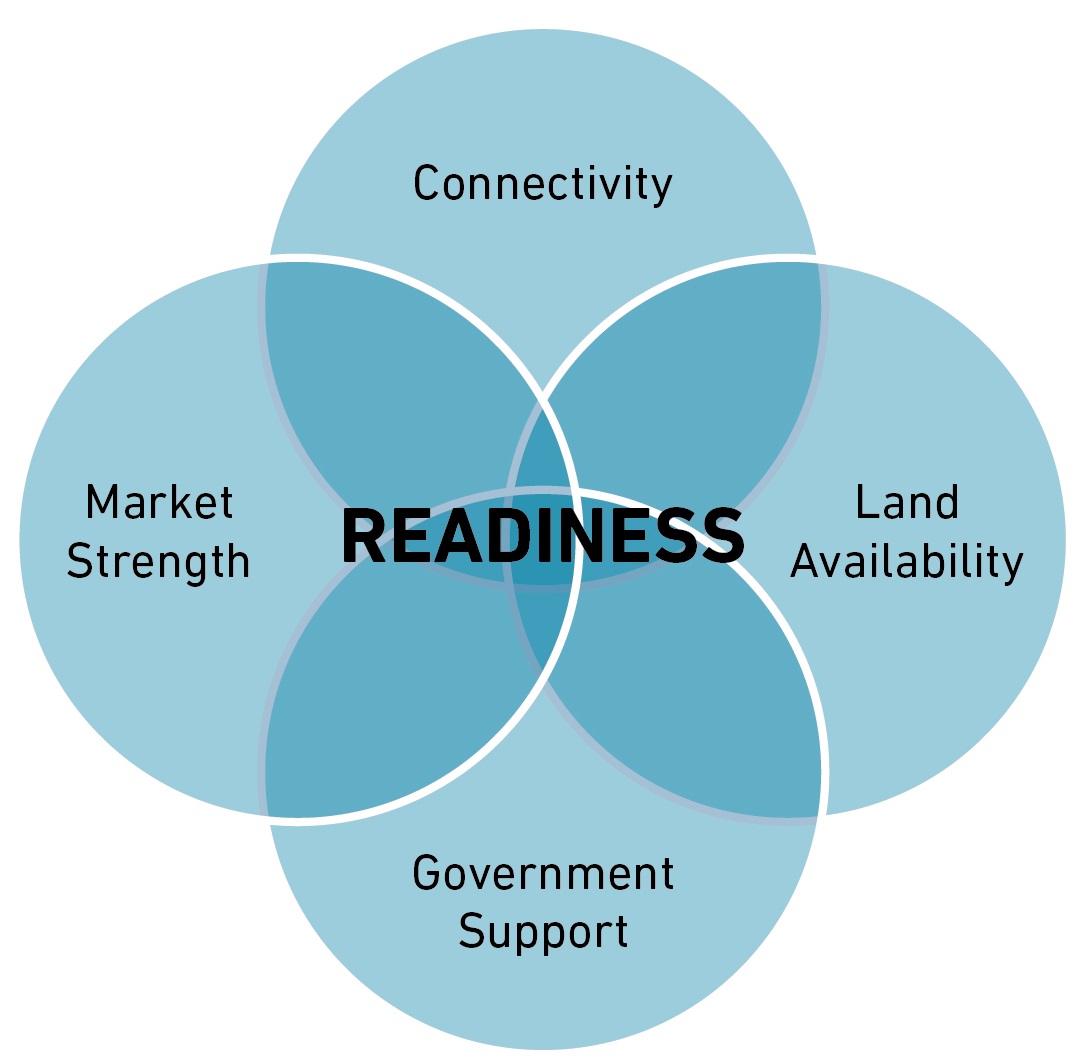 Connectivity
TOD requires high levels of multimodal connectivity into and inside adjacent neighborhoods. Frequent and reliable transit service is necessary, as is easy and safe movement along sidewalks and bikeways for non-motorized system users. While not a primary focus, access to main vehicular routes is also supportive of development, as is convenient access to the region's employment base.
Market strength
Areas exhibiting strong real estate fundamentals are likely to evolve into TOD more quickly than those missing key markers. A strong resident and employment base provides a captive audience for both ridership as well as the variety of land uses. Development begets other development – successful "pioneering" real estate projects trigger other new projects, and investment in established neighborhoods encourages other owners to maintain their properties and look for opportunities for infill development or redevelopment.
Land availability
Development or redevelopment as TOD is only possible to the extent property is available, and in quantities of practically developable size and shape. However, the principle for maximizing property use, and encouraging a rich mix of uses at higher densities around a transit station than perhaps historically seen, means that available land can be carved out of places that are not immediately obvious: surface parking lots, publicly owned campuses, and underutilized or vacant /abandoned properties ready for retrofit. This development is most important at the corners immediately around the transit station in order to establish precedent.
Government support
Enabling land use controls, community plans and infrastructure investment policies must be defined consistently with the TOD vision for station areas to allow development to unfold as desired. Without the underlying zoning, subdivision regulations, land use plans and other administrative tools in place, the market may not be able to implement by right the mix of uses, form and scale that are indicative of TOD. Likewise, how municipal government prioritizes and executes investments in civil infrastructure, such as streets maintenance, sidewalk repair, bike path connectivity and provision of water and sewer, has a real influence on how and where development or redevelopment happens, and it makes sense for plans and capital improvements to be coordinated.
This TOD Priority Tool is intended to be useful to many people across Austin. If you are a:
Property or business owner in a station area
Residential and commercial property owners and business proprietors in Austin can use the TOD Priority Tool as a guide for making real estate decisions, renovating their homes or facilities or opening or expanding their business. Profile documents contain facts and planning concepts for individual station areas that can help with these decisions and communicate the TOD typology vision for each area from Capital Metro's perspective.
Developer or builder
Developers or builders in Austin can use the TOD Priority Tool to get information on Capital Metro's TOD focus areas, identify properties for new development, and take advantage of recommendations for public-sector investments in station areas. Developers and builders take on the critical responsibility of constructing the vibrant mix of uses necessary to increase Austin's walkable, urban nature and connect the city's dynamic features.
Public-sector stakeholder
Public-sector stakeholders should use the TOD Priority Tool as key input to the prioritization process for coordinating and scheduling the planning, funding and implementation of civil infrastructure and broader urban planning policy recommendations. Understanding the relationship of potential capital investments to the TOD priority areas and needs identified by Capital Metro will help make sure that finite resources are directed efficiently to the most opportunistic areas.