Project Connect Initial Investment
System Expansion
The Initial Investment is based on the Project Connect System Plan and includes an all-electric bus fleet, a new rail system, a downtown transit tunnel and an expanded bus system with more routes.
---
About the "Initial Investment"
A ballot measure for the Project Connect Initial Investment will be on the November 2020 ballot.
It was a collaborative process between the Capital Metro board and the Austin City Council that resulted in the Initial Investment portion of Project Connect being put before voters this year. Leading up to the November election, the governing bodies took the following actions:
August 13: The Austin City Council voted to include Project Connect's Initial Investment on the November ballot. The vote approved an ordinance ordering an election to authorize and fund the Project Connect Initial Investment of $7.1 billion.
August 7: The Initial Investment proposal was adopted by the Capital Metro Board and approved by the Austin City Council. It includes a portion of the System Plan, which will advance through development and be considered for both local and federal funding. Not all of the System Plan's elements are included in the Initial Investment.
June 10: The Project Connect System Plan was adopted by the Capital Metro Board and approved by the Austin City Council.
The Initial Investment includes 27 miles of rail service and 31 stations:
---
ORANGE LINE: Light rail is planned to connect North and South Austin. The Initial Investment would begin at North Lamar and U.S. 183 and extend to Stassney Lane. Destinations include:
North Lamar Transit Center
Crestview
UT
Republic Square
Auditorium Shores
The SoCo District
BLUE LINE: Light rail is planned to offer service to the airport. Operating from North Lamar and U.S. 183 to downtown and direct to the airport. Destinations include:
Austin-Bergstrom International Airport
Lakeshore Drive
Convention Center
Rainey Street
UT
Crestview
North Lamar Transit Center
GREEN LINE: New commuter rail service would connect downtown to East Austin's Colony Park. Destinations include:
RED LINE: Expanded commuter rail service with new stations serving The Domain and Austin FC's stadium at McKalla Place. Destinations include:
Leander
The Domain
McKalla Place
Crestview
ACC Highland
MLK
Saltillo
Downtown
Light rail would travel underground downtown. Operating rail service beneath the streets increases the system's on-time performance and is safer than operating at street level.
Increased service, 9 new Park & Rides, 4 new MetroRapid routes, 3 new MetroExpress routes and 15 new neighborhood circulator zones. The Initial Investment includes:
---
MetroRapid
4 new MetroRapid routes provides frequent service with a limited number of stops. New corridors would include:
The Gold Line - from ACC Highland to Republic Square. (The Gold Line would begin as a MetroRapid service and could be converted eventually to light rail as a part of the System Plan.)
Expo Center - from East Austin to UT and downtown
Pleasant Valley - from Mueller to the Goodnight Ranch Park & Ride
Burnet - from The Domain to Menchaca and Oak Hill

---
MetroExpress
3 new MetroExpress commuter routes. Providing limited-stop service for commuters:
Four Points - from FM 620 to downtown
Oak Hill - from the Pinnacle Park & Ride to downtown
South MoPac - from the Wildflower Center to downtown

---
Park & Rides
9 new Park & Rides and 1 Transit Center:

Four Points
Loop 360
ACC Highland
Delco Center
Expo Center
Wildflower Center
Goodnight
McKinney Falls
MetroCenter
Eastside Bus Plaza Transit Center

---
15 new neighborhood zones for Circulators. On-demand pickup and drop-off to locations within certain neighborhoods. Provides first-mile/last-mile service connections to transit stations and other destinations.

MetroBike
All-electric bike fleet stationed at transit hubs
Integrated into the CapMetro App for bike rentals and payment

The Initial Investment includes $300 Million for anti-displacement measures, the largest investment of its kind in a transit-related election. A portion of this funding would go toward transit-oriented developments and affordable housing along Project Connect routes.
The Initial Investment in Project Connect is $7.1 billion with nearly half of the costs expected to be supported by federal grants and commitments
---
Financial and Tax Bill Impact
The City of Austin is one of multiple taxing entities to which property owners pay property taxes annually. Approval of Proposition A would dedicate 8.75 cents of the City's property tax rate revenue to the Austin Transit Partnership to fund implementation of Project Connect. If approved by voters, the Project Connect portion of the City's property tax rate would become part of the City's property tax rate each year.
For the typical Austin homeowner, the tax bill for the all taxing jurisdictions is based on a tax rate of $2.16 per $100 of value. If approved by voters, Proposition A will increase the tax rate by 8.75 cents, or approximately 4%; the impact on total tax bill is also approximately 4%. (See charts below)
The anticipated annual tax bill impact is based on taxable home value. Taxable home value is the appraised value of a home after property tax exemptions have been applied, such as the homestead exemption or the senior exemption. The estimated tax bill impact of passage of Proposition A is an approximation-based Fiscal Year 2020/2021 property tax rate. This property tax rate reflects assumptions about market and economic conditions and may be subject to change.
2020 Austin Median Home Value (after homestead exemption) - $326,368

| | | |
| --- | --- | --- |
| Home Value | Anticipated Annual Impact | Anticipated Monthly Impact |
| $250,000 | $219 | $18.23 |
| $325,000 | $284 | $23.70 |
| $500,000 | $438 | $36.46 |
| $750,000 | $656 | $54.69 |
If approved by voters, the total tax rate would change from $2.16 per $100 valuation to $2.25 per $100 valuation. The graphic below shows the Proposition A tax rate impact, based on approved rates for Austin ISD ($1.1084), City of Austin ($0.466), Travis County ($0.374359), Travis County Healthcare District ($0.110306), and Austin Community College ($0.1058).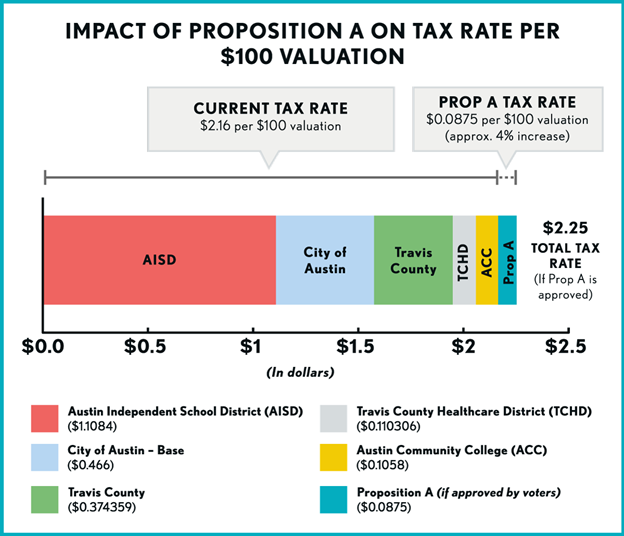 View a property's taxable value:
---
How Will Project Connect be Funded?