SYSTEM PLAN A NEW RAIL SYSTEM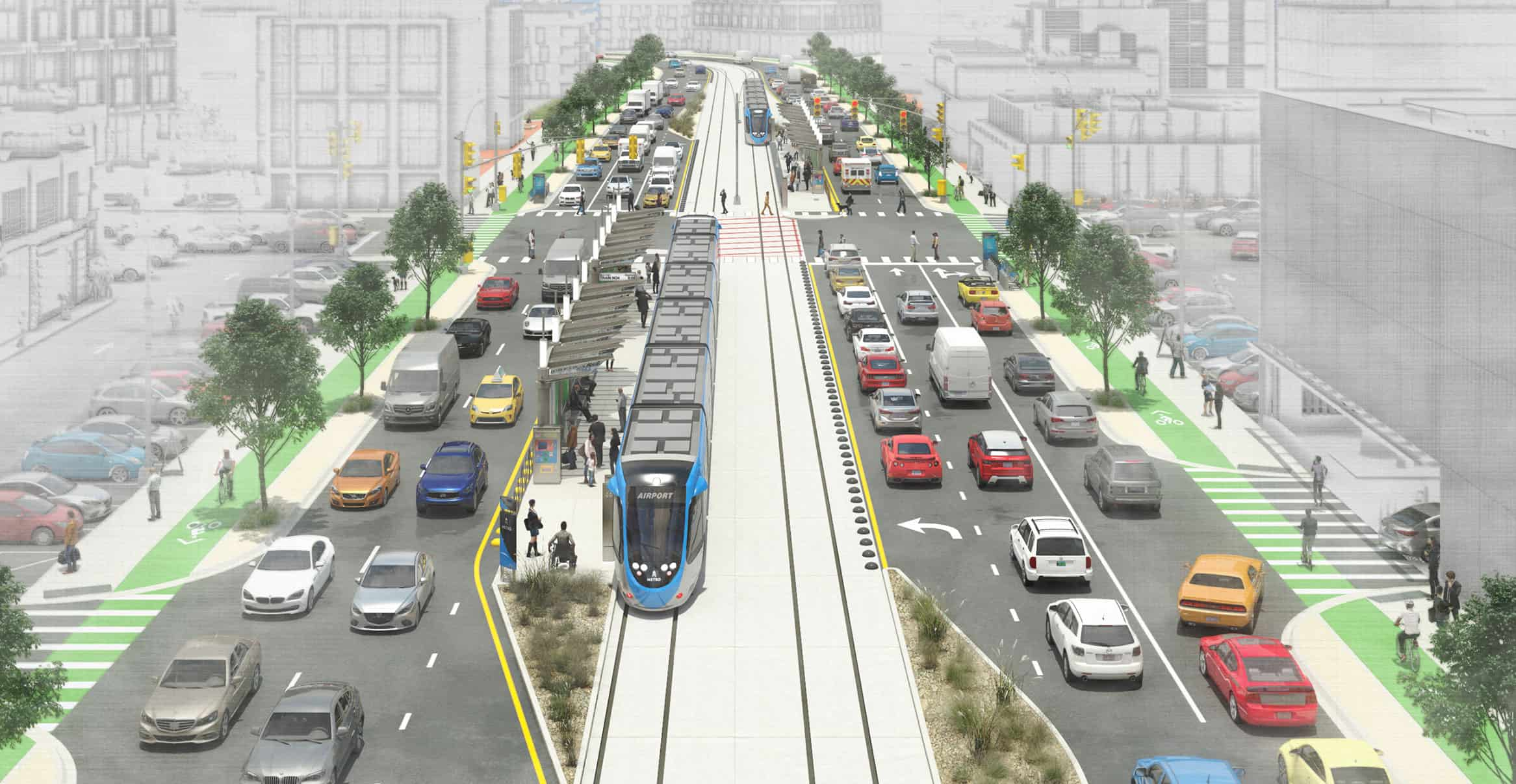 Artist conceptual rendering for illustration only.
The Project Connect System Plan's new rail system will connect North and South Austin, provide a direct link to the airport, through downtown and to South Congress, while extending to East Austin's Colony Park.
Three new light rail lines - Orange, Blue and Gold - with modern technology and dedicated transit lanes. New light rail vehicles will operate free from traffic improving travel times for everyone on the road.
The MetroRail Red Line is our Regional rail service that extends from downtown Austin to Leander. Improvements to the Red Line include 2 new stations. The new MetroRail Green Line would connect neighborhoods east of Central Austin to downtown.
Voters recently approved the Project Connect Initial Investment which includes the new rail system. The Initial Investment is a portion of the Project Connect System Plan that will advance to development with dedicated local funding following the voter-approved Proposition A on November 3. Federal funding is expected to fund up to half of the total program investment.
New Light Rail for Austin
The Orange Line, approximately 21 miles with 22 stations, connects North and South Austin running from TechRidge to Slaughter along the North Lamar/Guadalupe corridor, connecting the UT campus and downtown before crossing Lady Bird Lake and traveling along South Congress to Slaughter Lane.
---
The
Orange Line
will allow you to move free from traffic through some of Austin's most congested and popular areas, and will serve destinations including:
Tech Ridge (Park & Ride)
North Lamar International District
Crestview
The Triangle
UT campus
Republic Square
Auditorium Shores
South Congress
Southpark Meadows (Park & Ride)
The Blue Line light rail will operate for approximately 15-miles connecting 20 stations, running from downtown to the Airport providing service along East Riverside Drive across Lady Bird Lake to the Convention Center and west on 4th Street to Republic Square. It then operates along the Orange Line's path to US 183 and North Lamar.
The
Blue Line
will allow you to move free from traffic from downtown to the airport, serving new destinations including:
Austin-Bergstrom
Riverside
Lakeshore
Travis Heights
Austin Convention Center
Downtown Austin
Dell Seton Medical district
UT campus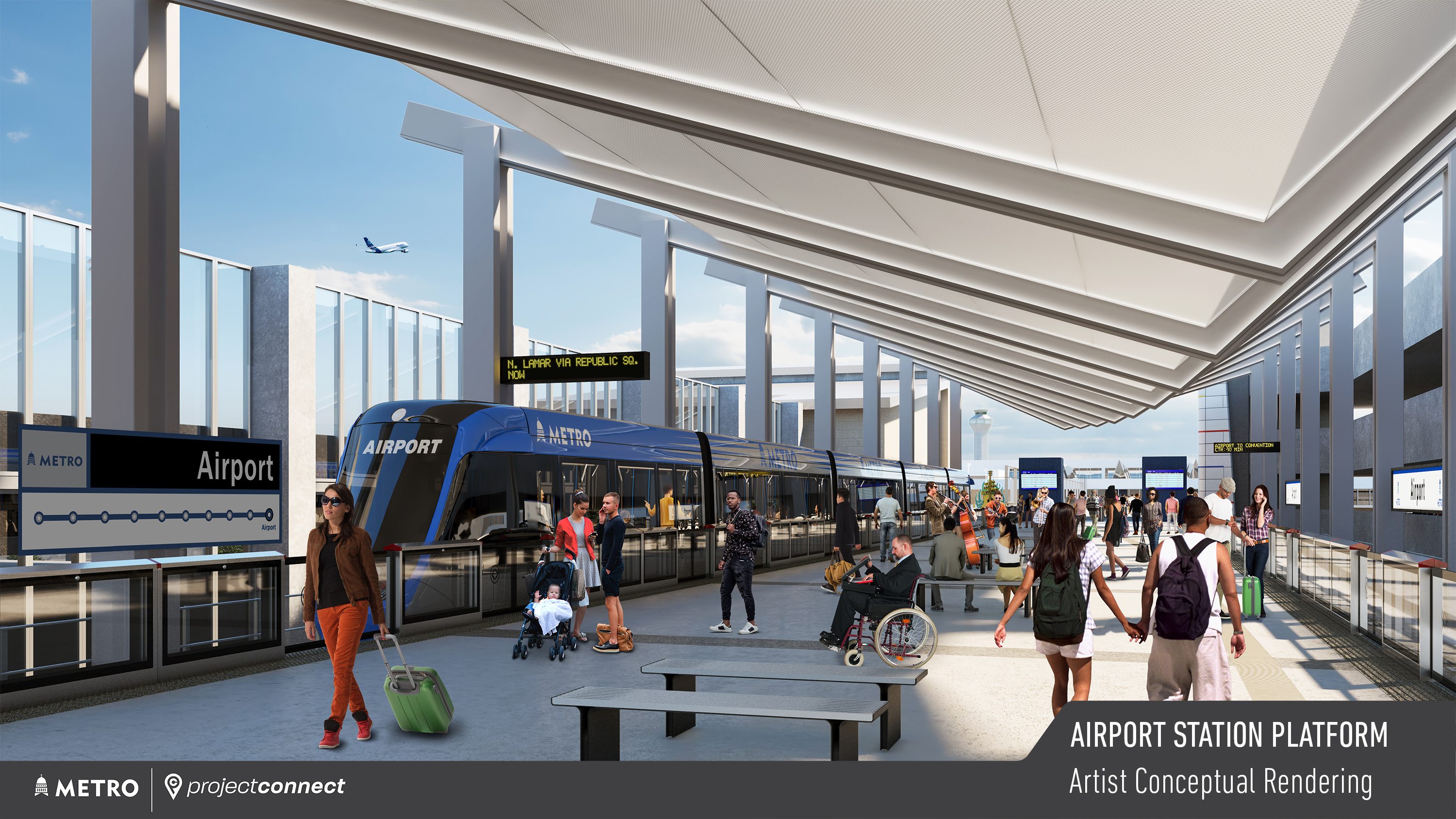 The Initial Investment will build the Gold Line first as a MetroRapid bus service. The system plan envisions the Gold Line as light rail that would operate for approximately 9.5 miles connecting 15 stations from ACC's Highland campus along Airport Blvd. and Red River into downtown, across the river and down SoCo.
---
The Gold Line will serve destinations including:
ACC Highland
Airport Blvd. restaurant district
Hyde Park
DKR-Texas Memorial Stadium
Moody Center
Downtown Austin
Rainey Street
ESB-Mexican American Cultural Center
Republic Square
South Congress Avenue
Regional Rail Improvements
The MetroRail Red Line's improvements will allow for more service to operate simultaneously going northbound and southbound – from downtown Austin to Leander. Project Connect's plan will connect residents to downtown Austin, ACC Highland, Lakeline and Leander. New connections include The Domain and the new soccer stadium at McKalla Place in North Austin.
The MetroRail Green Line proposes a 27-mile system traveling from downtown Austin to eastern Travis County and into Bastrop County, connecting Manor with downtown Austin using regional rail. With new transit hubs and Park & Rides, the Green Line would operate along Capital Metro's existing freight line between Austin and Manor, with a possible extension to Elgin, and connect residents to Central Austin. Destinations served by the Green Line would include:
Downtown Austin
Plaza Saltillo
East Austin
Colony Park
The Wildhorse Development
The city of Manor
Learn about the first phase of the Green Line approved by voters as part of the Project Connect Initial Investment.