LIGHT RAILBLUE LINE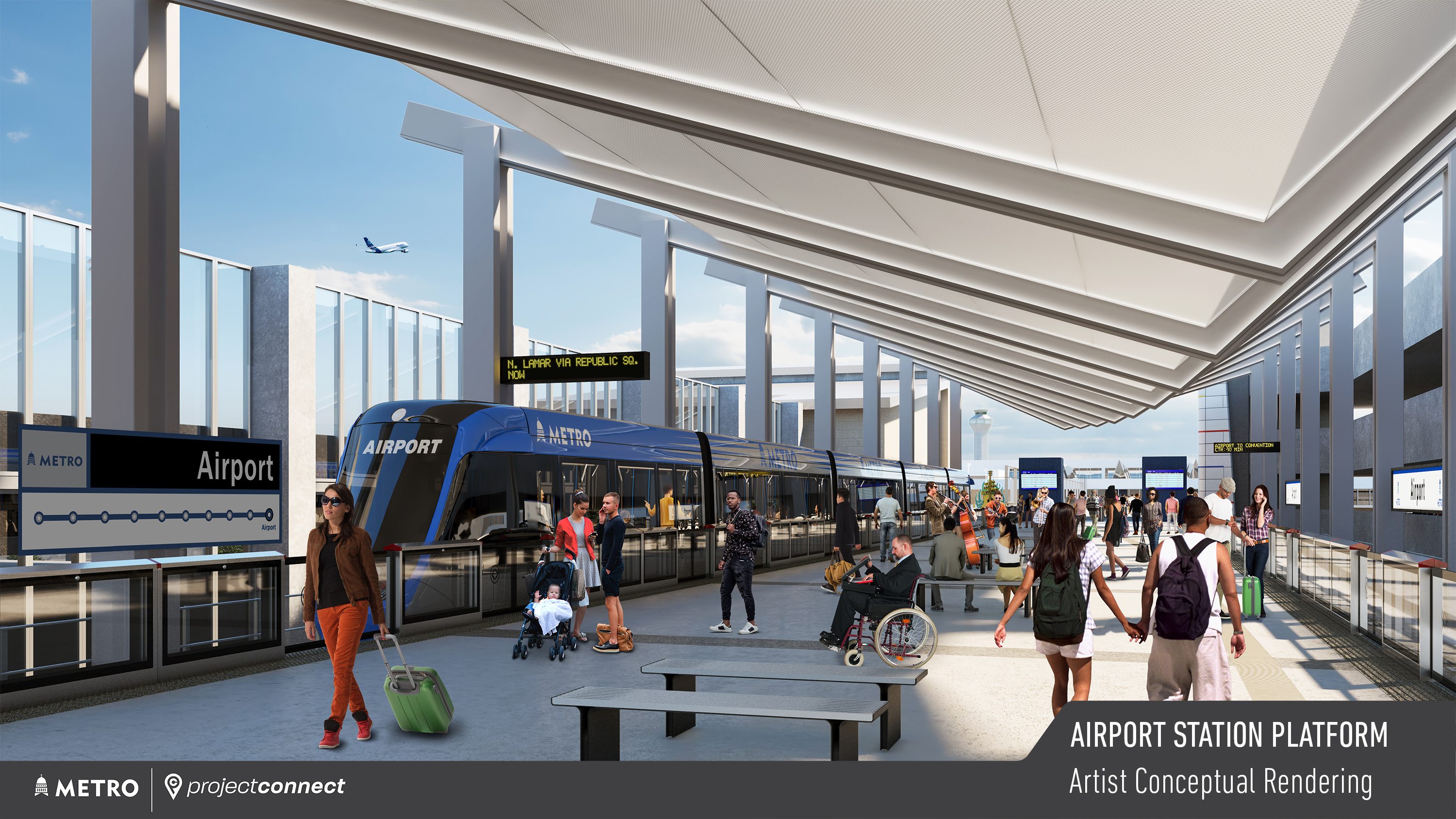 The proposed Blue Line Project is an 8.2-mile light rail transit (LRT) corridor that would operate from Republic Square in downtown Austin to the Austin-Bergstrom International Airport (AUS). The transitway is proposed to operate in a tunnel through downtown under 4th and Trinity Streets. The transitway would cross Lady Bird Lake on a new dedicated transit bridge, and travel along East Riverside Drive and State Highway 71 to the airport.
The need for the Blue Line Project is demonstrated by worsening highway congestion, a lack of mobility options and limited roadway capacity, inadequate transit access, increasing travel demand and travel times, decreasing mobility and additional travel costs.
The Blue Line Project would provide:
Improved high-capacity transit that operates faster and has better reliability
Improved connectivity to affordable housing, employment, activity centers and the airport
Links to other future transit corridors including the Transit Tunnel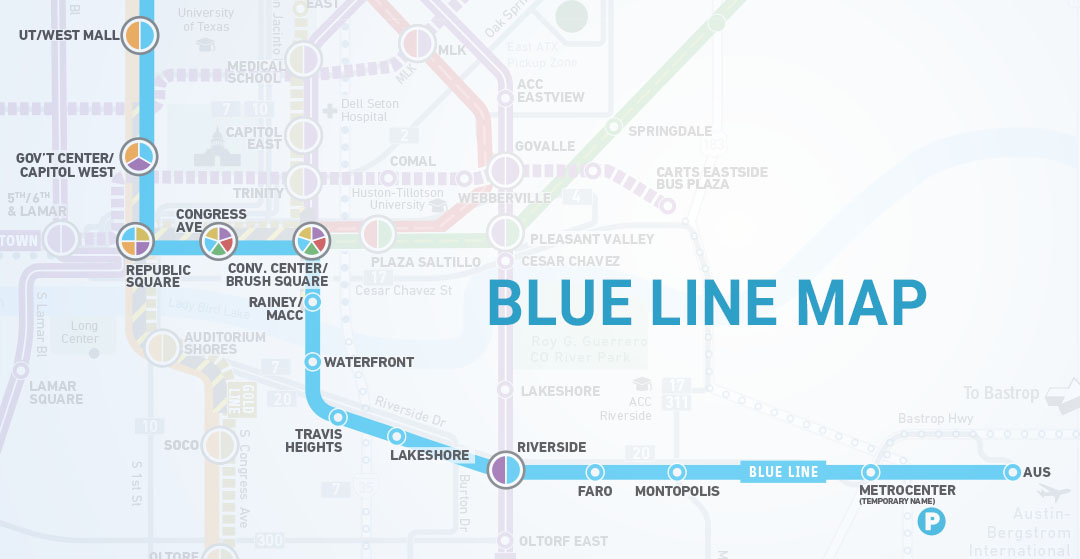 *The Blue Line map reflects potential future operations of Blue Line trains traveling on the Orange Line infrastructure from Republic Square to the North Lamar Transit Center. For the purposes of the environmental review process, the proposed Blue Line infrastructure is between Republic Square and the Airport.
---
The Blue Line Project would address the following needs:
Sustainably support Austin's population and economic growth
Increase transportation network capacity to meet increasing travel demand
Support Austin-Bergstrom International Airport (AUS) growth in air travel
Provide better transit options linking affordable housing and jobs
Support growth of and connectivity to activity centers
---
Resources
We welcome your input! Share your comments and questions with the project team.
Call our comment line at: 512-369-7774
Email: BlueLine@capmetro.org
Snail mail: Blue Line Project Team, Capital Metro, 607 Congress Avenue, Austin, TX 78701
---
Capital Metro and the Federal Transit Administration (FTA) have initiated the development of an Environmental Impact Statement (EIS) in accordance with National Environmental Policy Act (NEPA) guidelines and other regulatory requirements.
---
The NEPA Process:
Helps us to learn more about and better define the project
Allows the community to understand and help guide project development
Fulfills requirement to receive federal funds
---
The 3 Steps of the NEPA Process:
Scoping - An early and open process that allows the public and agencies to provide input on issues the project aims to address and identifies any significant issues related to the project.
Draft Environmental Impact Statement (DEIS) - After the scoping process, work begins on the Draft EIS to more fully assess the potential benefits and impacts of the project.
Final Environmental Impact Statement (EIS) and Record of Decision (ROD) - Comments received from the Draft EIS are addressed and the proposed action, environmental findings, and mitigation requirements of the project are stated in the Final EIS/ROD.