SYSTEM PLAN EXPANDED BUS SERVICE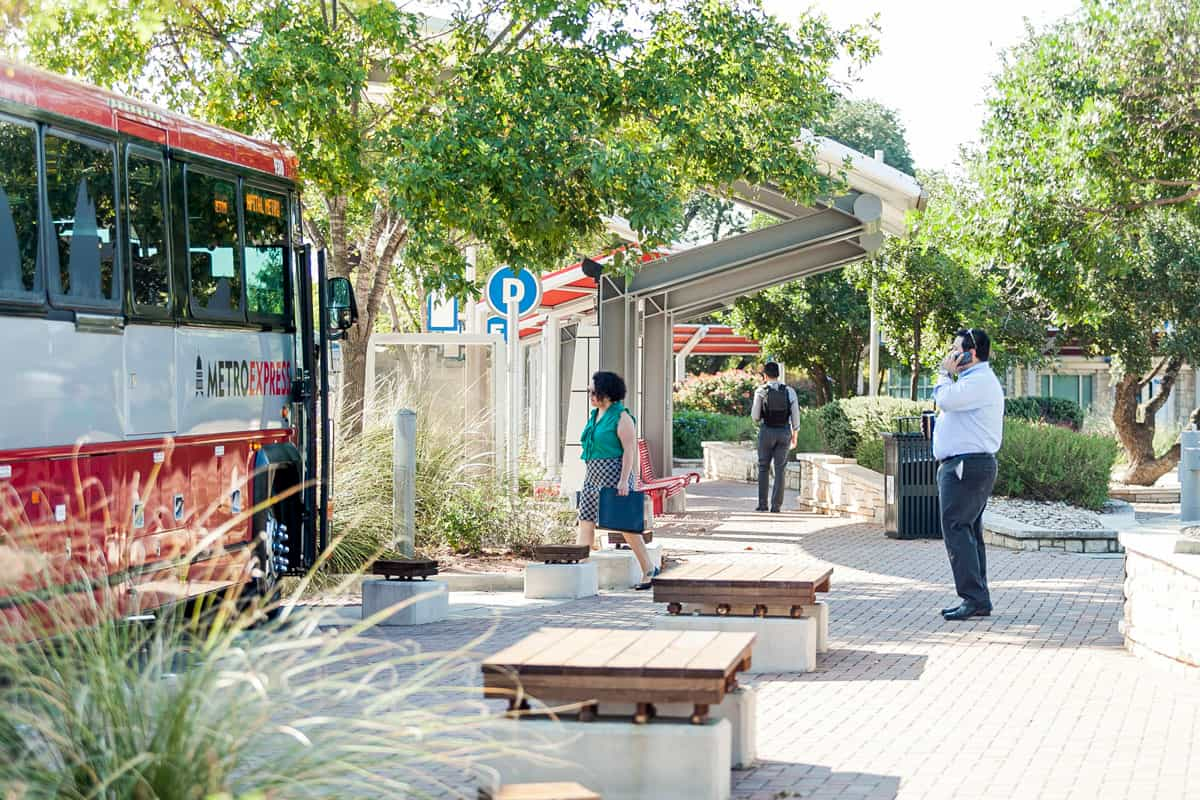 We are expanding our existing bus service to more parts of the region.
The Project Connect system plan includes improvements to all of our current bus services: MetroBus, MetroRapid and MetroExpress. It would be built on our High-Frequency Network of MetroBus routes, which operate every 15 minutes, 7 days a week; include an all-electric bus fleet; expand MetroRapid from 2 routes to 7; and bring MetroExpress service to new parts of the region.
Implementation
Certain projects are planned to be implemented on a 2- to 3-year time frame.

Station Amenities
More covered stops to provide protection from the elements.

Station Connectivity
More transportation options to get to and from stations.

More Capacity
Additional capacity allows us to move more people.

Safety
Crosswalk, sidewalk and bike facility improvements.

MetroRapid provides frequent service with a limited number of stops and faster travel times. Priority lanes, transit signal priority, queue jumps, enhanced and improved stations and higher frequency are all features of MetroRapid.
Corridors served:
Pleasant Valley
South Lamar
Menchaca
Parmer Lane
MLK
ACC Highland to Tech Ridge (along Cameron/Dessau)
Crosstown (on 7th Street)
Expo Center (from downtown and UT along Manor Road and Loyola Lane)
MetroExpress serves suburban Austin and neighboring communities with more 8 new routes between Park & Ride locations and major employment hubs. In addition to the areas currently served by MetroExpress, Project Connect includes new MetroExpress service to other parts of the region, including Hutto, Bastrop, Lockhart, Buda and Oak Hill.
This includes partnering with the city of Austin and regional authorities to improve existing roadways.
Areas to be served:
Georgetown
Four Points
Oak Hill
South MoPac/Circle C
Buda
Hutto
Del Valle
Lockhart
Bastrop
Circulators let you connect to and from your final destination without driving.
There are a few ways we could provide a circulator service. It could include a vehicle that constantly runs on the same loop like CapMetro's old downtown circulator, the Dillo. Another option may be similar to Pickup, which provides on-demand transit options from a customer's home to anywhere they need to go within a specific service zone. Pickup currently operates in several Austin neighborhoods as well as Leander and Manor, too.
MetroBus service is the backbone of the CapMetro system. We've invested to improve the customer experience in the past year, including more than 150 new bus shelters, solar-powered lighting to improve security, and advanced technology that provides customers with more accurate Next Departure information. MetroBus service is included in the Project Connect System Plan.
So, what does that look like?
All-electric bus fleet
Additional station amenities
About "Initial Investment" & "System Plan"
A ballot measure for the Project Connect Initial Investment will be on the November 2020 ballot.
It was a collaborative process between the Capital Metro board and the Austin City Council that resulted in the Initial Investment portion of Project Connect being put before voters this year. Leading up to the November election, the governing bodies took the following actions:
August 13: The Austin City Council voted to include Project Connect's Initial Investment on the November ballot. The vote approved an ordinance ordering an election to authorize and fund the Project Connect Initial Investment of $7.1 billion.
August 7: The Initial Investment proposal was adopted by the Capital Metro board and approved by the Austin City Council. It includes a portion of the System Plan, which will advance through development and be considered for both local and federal funding. Not all of the System Plan's elements are included in the Initial Investment.
June 10: The Project Connect System Plan was adopted by the Capital Metro board and approved by the Austin City Council.