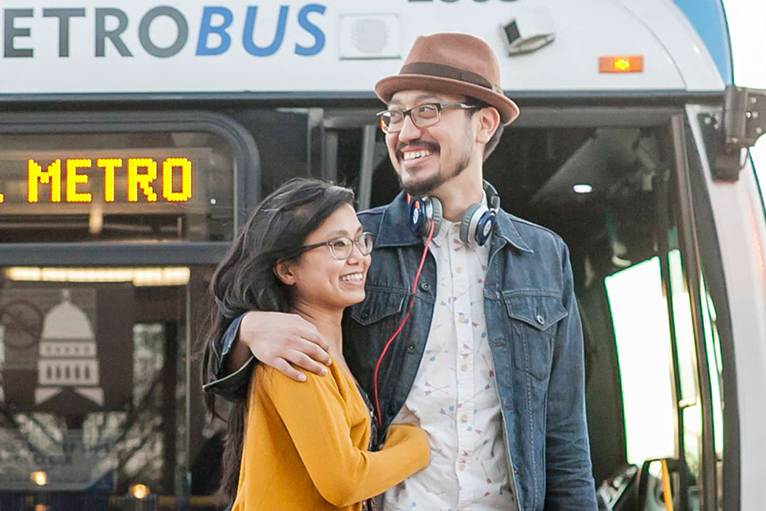 About CapMetro
CapMetro is Austin's regional public transportation provider. We've been around since 1985 and work every day to give residents, commuters and visitors the best possible transit options available to match their busy everyday lives.
We're always on the move, connecting people with jobs, schools, restaurants, shops, festivals and other great places to hang out. In fact, we have more than 31 million boardings each year.
---
For employees of Capital Metro and our service providers, delivering exceptional service is the heart of our business. Each of us contributes to our mission by embracing these guiding principles.
Core Values
---
Safety, Equity, Transparency, Sustainability, and Innovation
Mission
---
To empower, enhance, and serve the region and its communities through the responsible delivery of high-quality public transportation.
Vision
---
CapMetro is integral to the region and its communities, providing connectivity, fostering economic activity, and ensuring safe, environmentally sustainable, and equitable access to opportunity.
Goals
---
Customer
---
Provide a convenient, desirable, and accessible option for mobility in the region and its communities.
Community
---
CapMetro is the leader in supporting a growing region, collaborating with partners and communities.
Workforce
---
CapMetro has a productive, invested, and valued workforce.
Organizational Effectiveness
---
CapMetro responsibly and sustainably delivers on its mission.
Objectives
---
Provide reliable and safe transit service.
Maintain a high-quality customer experience.
Ensure CapMetro has a system that is accessible for everyone in the region.
Be a regional leader in supporting sustainable growth through expansion of access to jobs, services and opportunities.
Continue to improve the environment by transforming into a fully carbon-neutral transit agency.
Collaborate with the community, riders, and stakeholders to be responsive to their needs.
Serve as the regional leader in collaborating with communities to develop regional transit plans and opportunities.
Recruit and develop a full complement of diverse staff to meet CapMetro's growing needs.
Be an employer of choice that proactively retains a diverse and engaged workforce aligned with the agency's mission and guiding principles.
Expand a highly skilled workforce to meet the changing needs of the agency and community.
Be a fiscally responsible and transparent steward of public funds.
Instill a culture of safety in all staff throughout the organization.
Balance investments while prioritizing a state of good repair.