Service Changes
Routine, and at times unexpected, changes occur to roads, businesses, and communities. These changes sometimes affect the transit system. And every year, how our riders use our buses and trains shifts in small ways. We respond by regularly reviewing these changes and then making adjustments as needed.
In an effort to improve service and respond to any changes in the city, CapMetro adjusts service every January, June and August.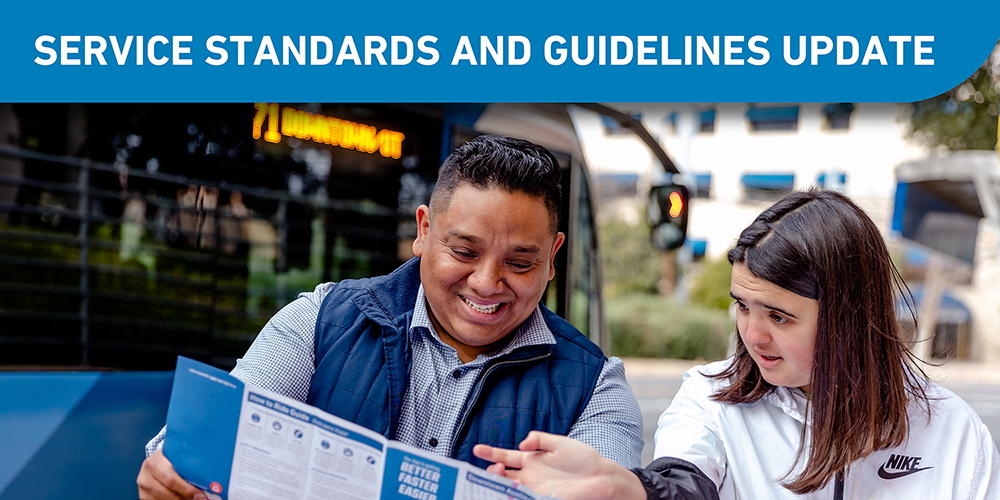 Service Standards and Guidelines Update
CapMetro makes regular changes to our services and programs and, whenever we do, we follow guidelines to make sure that process serves our community well. The Service Standards and Guidelines are a set of policies that guide every decision in CapMetro's service change process. Whether we are adding a new bus stop or changing a bus route, these standards inform how changes are made and how performance is evaluated. The Service Standards and Guidelines are updated on a regular basis (every five years), and we are collecting input during October through early December 2022 for the next update. The Service Standards and Guidelines update is an opportunity to provide direct feedback on the service change process and what matters most to you.
Get Involved
Service changes allow us to modify existing route alignments, schedules, bus stops and facilities in order to improve overall service. CapMetro is efficient with its resources, and allocates them accordingly based on ridership trends and route productivity.
Service changes occur tri-annually to coincide with local school calendars. Typically, major changes are implemented in August and minor changes are implemented in January and June.
The service change process spans 6 to 8 months and includes the following steps:
Proposal development
Community involvement
Board approval
Schedule development
Infrastructure
Customer information
Implementation
The Service Guidelines and Standards provides an impartial and objective set of criteria by which services can be assessed and informed decisions made regarding transit resource allocation. This document is a policy tool that reflects the mission and goals of CapMetro. It is is a living document, and will be reviewed at least every other year with the CapMetro board of directors.
The first section of the Service Guidelines and Standards contains guidelines for the general design of the overall transit system. This section also lays out guidelines for service characteristics, including the service span and frequency. Guidelines are to be used with some flexibility but reflect the intent of CapMetro in service design and delivery.
The second section describes the standards for service evaluation. This section lays out the methodology by which existing fixed route services are evaluated and how poorly performing routes are identified. This methodology is to be applied rigorously and consistently in determining the performance of individual routes.
Download the Service Guidelines and Standards and Transit Design Guide: Standards and Best Practices.