MetroBike
We know that buses and trains can't always take you every mile of your trip. Bikes aren't just an eco-friendly transportation alternative; they provide access to Austin that other public transit options just can't.
MetroBike is a CapMetro-owned bikeshare system that helps you get around Austin on two wheels without having to buy a bike of your own!
Bringing your own bike instead? Park it safely in a CapMetro Bike Shelter!
Every cyclist wants a happy home for their bike. We provide 7 of them for bike riders at our Bike Shelters, conveniently located at popular Rail stations and a few major transit centers. Sign up today, there is no annual fee for the shelters!
MetroBike: Austin's Public Bikeshare

Whether you're a student or commuter, a local or a visitor, we want to help you get where you need to go using CapMetro services from first to last mile. We have CapMetro provided and maintained bikes and e-bikes in our fleet of transportation services. Through the BCycle app, we're able to offer riders one more way to get around town. View Austin Bike Routes here.
To reserve your MetroBike, please download both the CapMetro App and the BCycle app.
You can choose from a wide offering of bike passes and access all the reservation information you need while on the go. CapMetro's app options include bundled bike & public transit day passes and 31-day passes while BCycle's app allows you to pay-as-you-ride or purchase a membership for a day, weekend, month or year.
Once you have selected the pass that's right for you, simply arrive at your nearest MetroBike docking station and retrieve your reserved bike using the BCycle app.
When choosing your bike, note that e-bikes are white while manual bikes are red and grey.
---
With 75 bike stations (and growing!), use this map to find the location nearest you.
---
All rides, regardless of your pass or membership level, are 60 minutes in length. Booked your bike for the day? You will need to return your bike to a dock within 60 minutes to avoid additional charges. After you've docked, feel free to begin a new ride using your same day pass. The clock will automatically restart once your bike has been docked.
Any ride lasting longer than 60 minutes will be charged $4/30 minutes.
---
To unlock bikes: Enter the dock number into your BCycle app and pull a bike from the dock.
To lock bikes: Push bike into dock. Remember that bikes must be docked every 60 minutes, no matter your pass type or membership level, to avoid additional fees.
For e-bikes: Activate electric assist Check the battery level before unlocking a bike.
To adjust the seat: Release the seat post clamp to adjust your seat height, then tighten the clamp.
Be safe: Always wear a helmet when riding a MetroBike.
Be smart: Follow traffic laws and use bike lanes when available.
Reserving your MetroBike is as easy as purchasing any other service pass using a virtual AMP card in the CapMetro App.

In the Manage tab of the app, select the virtual card you want to use and tap "Add Passes". If you don't have a virtual card, tap "Create or Add Card" > "Create Virtual Card".

Select MetroBike & Bus from the Service Level drop down menu.
Select and purchase the bike and bus pass you want. **You can only use your digital wallet balance to purchase passes.
Select Manage tab and tap "Available Passes".
When you are at a bike station and ready to check out a bike, tap "Activate" on the MetroBike pass. You will have 15 minutes to unlock your bike after tapping "Activate".
This action will launch the BCycle app. If you don't have this app, you will be directed to the app store to download it. The discount will be applied for the pass purchased once the app is installed and open.
NOTE: The bus pass that is packaged with the bike pass will be ready to validate onboard in the Use screen. Contact our GO Line if you need assistance: 512-474-1200
In July 2020, CapMetro and the city of Austin finalized a partnership to improve Austin's mobility network utilizing the city owned BCycle bikeshare system. This partnership aims to create long-term bikeshare service improvements such as:
Expanding the BCycle fleet and stations
Optimizing the system's first and last mile transit solution
Improving services and reaching communities outside of the downtown core
Fully electrifying BCycle's fleet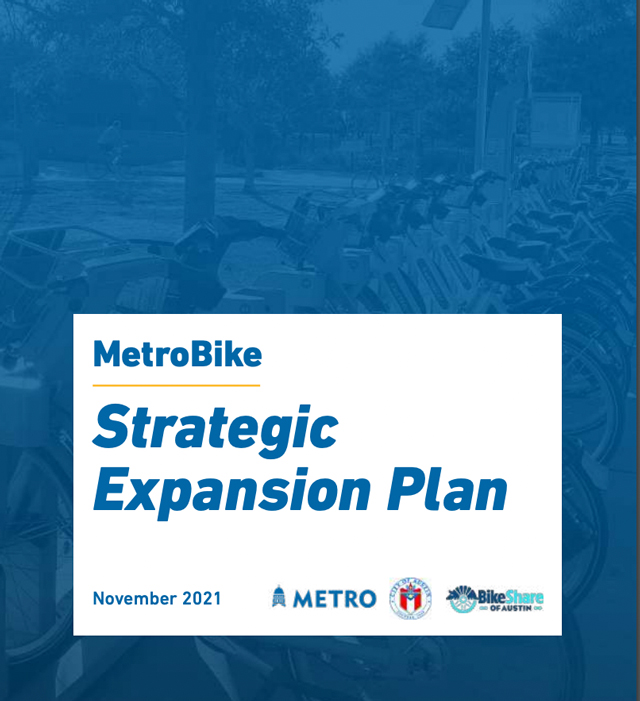 MetroBike Strategic Expansion Plan
The MetroBike Strategic Expansion Plan identifies a comprehensive strategic roadmap for expanding MetroBike. It is not intended as a detailed business or operating plan for the system—recommendations are flexible and adaptable, and implementation is subject to available budget and operational capacity. MetroBike's expansion and ongoing integration into multimodal transportation options for people who live, work, or visit Austin. For any questions, contact MetroBike@capmetro.org.
Frequently asked questions
BCycle offers deeply discounted memberships to University of Texas at Austin and Huston-Tillotson University students and staff. Click here for more info and to apply for your discounted membership.
While kids do ride free on many CapMetro services, MetroBike is not one of them.
Maybe you're on the fence about using a shelter. Here's 1 great reason to use the shelters and 5 common scenarios where it really helps:
NO ANNUAL FEE!
You don't feel like standing with your bike or being crowded.
You want to leave your bike in a secure facility.
You know a train or bus is going to have its racks filled.
You don't want to leave your bike exposed to the sun or rain.
You want a break from lugging your bike back and forth to work.
Secured, card key access
Fully enclosed bicycle parking
Long open hours: 5 a.m.-2:30 a.m., 7 days a week
24-hour camera surveillance
Seating for changing shoes, etc.
An air pump, work stand and tools for minor bike repairs
MetroBike Shelter Access Cards provide secure, card key access to MetroBike Shelters. You can sign up for membership online. There's a $3 charge to register for an access card, which will be mailed within 1 to 2 weeks after the order is placed.
How to use your card: Swipe your card over the red light to the left of the door to open.
Expiration: The card will expire every 2 years and requires a $3 registration fee to renew. Customers will also receive notification to update any information that has changed every 2 years.
Replacement cards: There is a $20 lost-card fee. Replacement cards can be ordered through the CapMetro App.
Here's where you can find a shelter along a MetroRail route or at a major transit center:
Kramer Station
Lakeline Station
MLK Station
Plaza Saltillo Station
Highland Station
Tech Ridge Park & Ride
South Congress Transit Center
Note: Shelter use requires enrollment and a MetroBike Shelter Access Card.