Public Safety
Reimagining Transit Security
Capital Metro is in the process of reimagining our transit security operations. The new Public Safety Department's approach will be transit-specific and customer-focused, better positioning us to serve the Central Texas of today and the transit system CapMetro is building for tomorrow.
The Right Tool for the Job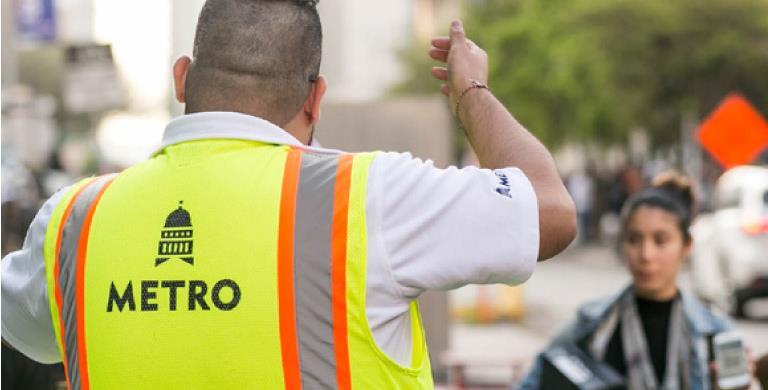 Capital Metro hired our first police officers in 1988, when four Austin Police Department officers began to work part-time for the agency. Today we have more than 160 off-duty APD officers working for CapMetro. In the same time, the population of the Austin area has increased from 525,000 to more than 2.1 million.
In short, Capital Metro's security service was built for a city that doesn't exist anymore. Like 2018's Cap Remap system redesign remade our bus network, the new Public Safety Department will remake our security program.
Part of creating a modern Public Safety team is rethinking the roles and responsibilities of its team members. We have identified that our need for law enforcement support is limited and most of our public safety work involves responding to disruptive nonviolent incidents. This means we can change who responds to calls and how they do so.
Taken together, this new setup allows us to work with our community on issues of mental health and homelessness in a smarter and more compassionate way.
Public Safety Reimagined
Our new approach will feature:
Public safety ambassadors who are providing public safety support.equally focused on customer service and
On-staff social workers who will respond to noncriminal disruptive incidents and train CapMetro employees.
More security cameras on vehicles and at facilities for faster identification of issues.
A new, transit-focused Capital Metro Police Department for when law enforcement is truly needed.
---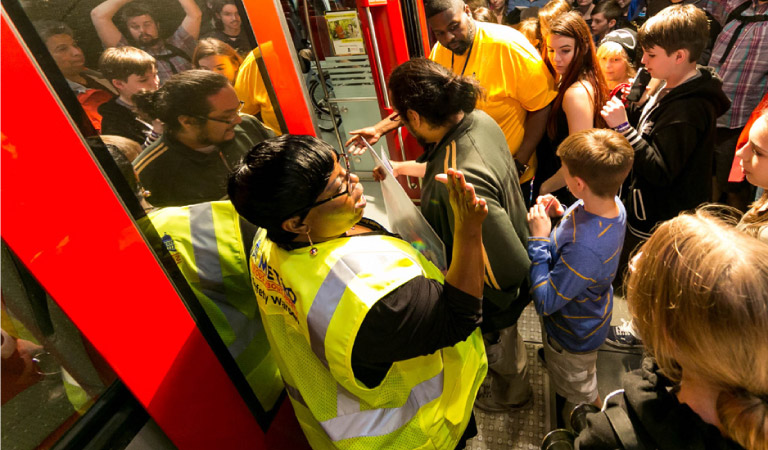 Challenges Facing CapMetro
Regional growth
Availability and flexibility of staff
Service area across multiple jurisdictions
Special event managemen
Benefits of this New Focus
The new Capital Metro Public Safety Department will provide:
More efficient use of resources
Shorter response times to staff and customer concerns
Phased response to incidents, beginning with ambassadors and then police officers, only if needed
Police officers able to focus on incidents that call for law enforcement
Coverage across the multiple jurisdictions of the service area
Direct control over training, staffing and policies
These moves will create a Public Safety Department that is the right size for the Austin of today and able to support the growth of our region, the services we're planning for tomorrow and the ridership that will come to rely on the Capital Metro system built by Project Connect.
---
New Public Safety Organization: Present and Future
CapMetro began this transition a few years ago when we decided to stop having police officers enforce our fare payment policies. We did that because it's more important to provide transit rides than issue you a ticket.
Early in 2021, we began to work with transit agencies nationwide to conduct a review of how our peers operate their public safety programs.
Public Safety Plan
Approximately $1 million of the FY2021 budget for the Public Safety Department is being shifted to civilian staff. This is not increased funding but a shift of funds from APD officers to civilian staff members, including the two social workers, a public safety supervisor and up to 15 public safety ambassadors to support our services.
FY2020
Started Dispatch and Enhanced Video Operations
Launched See Say Now app
Began transition from police officers to civilian Public Safety team
FY2021
Hire Public Safety Personnel

Supervisor and Public Safety Officers
Community Intervention Counselor

Peer review for Public Safety department structure
FY2022
Hire Police Chief
Hire Police Officers
Complete transition to civilian Public Safety team