Safety and Security
We're serious about safety, and you should be too. Please use common sense in and around our services. And, if you see something dangerous, say something to the operator. You can also use our new See Say Now app to report activities that are dangerous to our customers or our staff. Or, submit a report through this webform.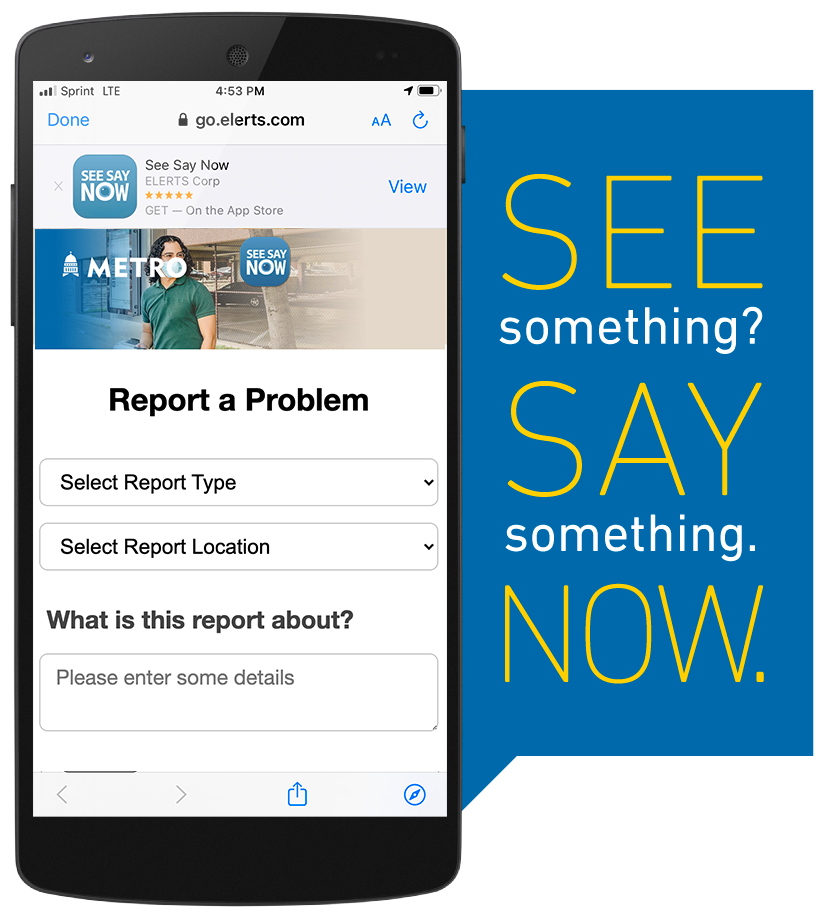 Anonymously report suspicious activity on CapMetro services and at our facilities. Check out our See Say Now app brochure to get more details. If you need to report an emergency, please call 911.
See Say Now gives customers three ways to help keep everyone safe by reporting suspicious activity:
Download the See Say Now app (iOS and Android) and choose CapMetro under "Transit." The app also allows you to call the police directly in case of an emergency.
Use the See Say Now webform.
Or, use the Text-a-Tip feature to send your report to 512-488-4200.
Capital Metro is following guidance from Austin Public Health and continues to monitor the situation involving the corona virus and COVID-19. In addition to daily cleaning procedures of all CapMetro vehicles and transit facilities, we are applying a disinfectant to common hand contact areas such as poles and handrails, armrests, door handles and stop request buttons. To help prevent the spread of respiratory viruses, including flu and COVID-19, please follow standard hygiene measures. For the latest information from CapMetro on this situation, visit CapMetro.org/COVID19, which will be updated as news warrants.
If you see something, say something. Report emergencies or suspicious activity to any bus operator, uniformed personnel or call 911. When on MetroRail, use the intercom to reach the train engineer.
Always use traffic lights and crosswalks, and obey all warning signals and railroad crossing gates.
When boarding and exiting, watch your step and do not cross in front of the vehicle.
Please stay back at least three feet from the curb and station platform edge while waiting for the bus or train.
Standing while riding is permitted except on MetroAccess vehicles. Look for a pole or a strap to hold for safety.
Sitting or standing in the doorway or the stairwell is never allowed.
Falling asleep while riding is unsafe. Customers who are asleep are at risk of being injured from unexpected vehicle movements or braking, as well as theft and injury.
Skating and biking on train platforms or tracks is unsafe, potentially deadly and not allowed.
The operator must secure your mobility device, such as a wheelchair or scooter, for you.
Lifts and ramps may be used at any time the vehicle is stopped. Remain alert when boarding or exiting and allow the operator to fully deploy the lift or ramp before entering.
Buses and trains are allowed to pick up or drop off customers only at official Capital Metro bus stops, stations or designated areas.
Customers may not board the vehicle once it pulls away from the curb.
Never approach a moving vehicle or attempt to knock on its doors or windows to capture the driver's attention.
Stand behind the white line on the platform while waiting for the train.
Hold your child's hand while waiting on the platform.
Hold on while standing on board the train.
Stay clear of the tracks. If you are standing on or near the tracks, you may not see, hear or feel the vibration of an approaching train. Be alert and watchful.
Photos on tracks can be deadly. Don't risk your life for a selfie.
MetroRail trains are faster and quieter than freight trains and not required to blow horns in designated quiet zones.
Cross tracks only at designated crossings and never cross tracks when the gates are down or lowering.
Do not try to beat the train to a crossing when driving. Stop at least 15 feet from rail crossings.
Never stop on the tracks.
Capital Metro has a zero-tolerance policy for trespassing within the railroad right-of-way.
Unwanted behavior from another person that is threatening, criminal or makes you feel uncomfortable is harassment and is never OK.
Harassment can be unwelcome touching or physical proximity, sexual advances or comments, photographing without permission and verbal or physical threats.
If you experience or witness harassment while using CapMetro, tell the bus operator immediately. If on Metrorail, use the intercom to notify the engineer. And call 911 right away if your immediate safety is threatened.
Assaults on bus operators, whether physical or verbal, put everyone at risk. Call 911 immediately if you witness someone threatening or assaulting an operator.
Call the Customer Service GO Line at 512-474-1200 to let us know of any incidents of harassment.
What does common courtesy mean on public transportation? Here are general guidelines we ask everyone to follow:
Customers are allowed one seat and should avoid taking up more space than allowed. Don't lay down. There is no assigned seating.
If a rider boards a full bus while carrying a child, kindly offer them your seat.
Do not block vehicle doorways; customers entering and exiting need room to pass.
Please let customers exit the bus before boarding. And, please exit through the rear door when possible - it speeds up the boarding process and allows our vehicles to better keep to their schedules.
Allow customers in wheelchairs, people with disabilities, senior citizens and those with small children to board the vehicle first.
Do not yell out your stop request to the bus operator. When you're about a block away, use the "stop requested" cord or button
No standing while vehicle is in motion.
Lap seat belts must be worn, if provided.
Hospital beds, stretchers, Hoyer lifts, large shopping carts and other devices posing a safety risk are not allowed on board vehicles.
Bikes are not allowed on vehicles with 15 seats or fewer.