Community Intervention Specialists

Community Intervention is our street outreach program created to assist those on the CapMetro system struggling with homelessness, mental health, substance abuse and other community issues.
Effective street outreach helps people who might not seek assistance on their own, who might not come to the attention of the local government's homelessness service system. It is too easy to slip through the cracks. Our goal is to ensure that people's basic needs are met now while supporting them along pathways toward housing stability. See this information sheet about street outreach put together by the United States Interagency Council on Homelessness.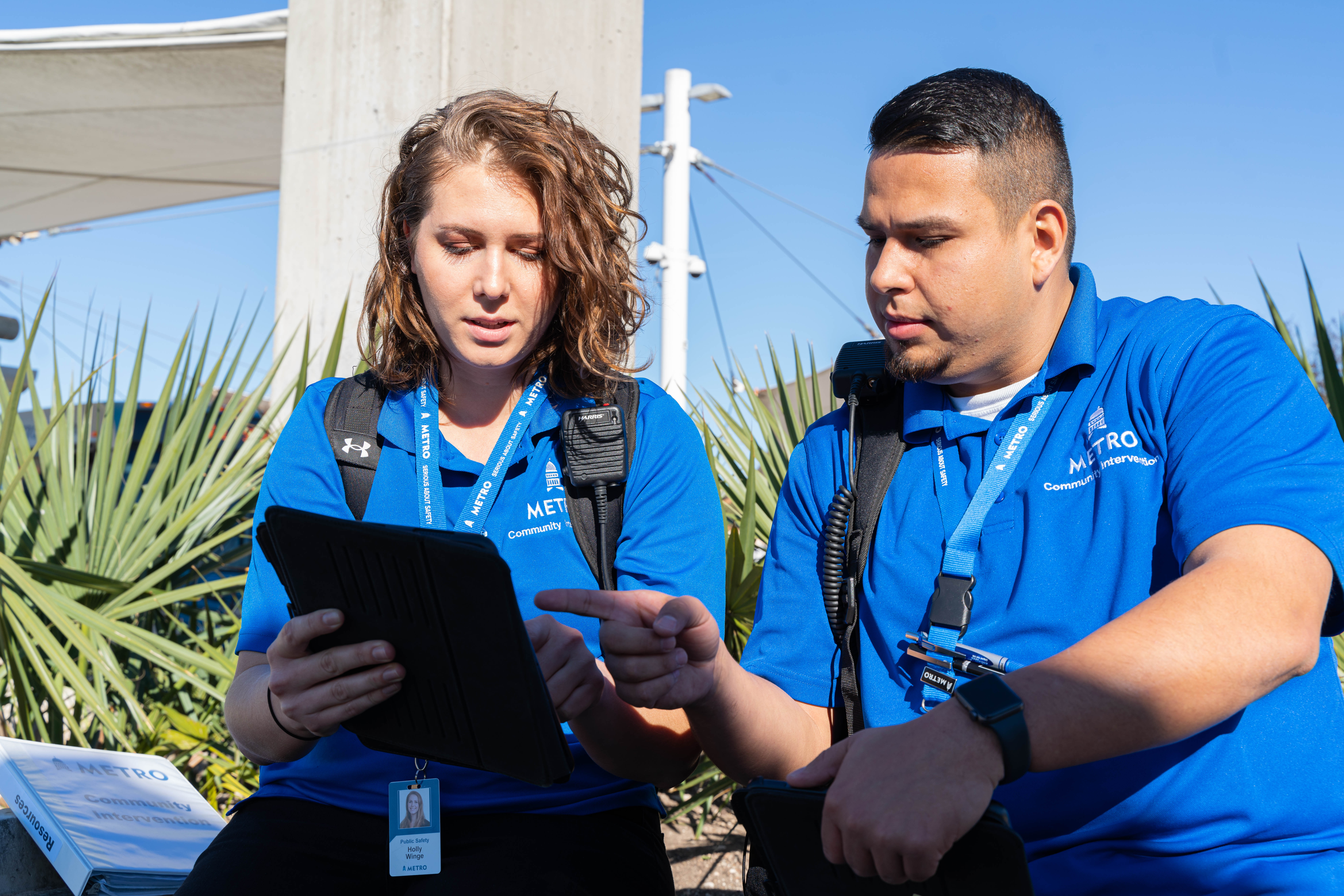 To address concerns about safety and wellness on our system in a humane way. This program emerged from discussions with our customers, CapMetro staff and the community. We support those in our community who need it the most, without creating situations that involve law enforcement when their support is not needed.

CapMetro's community intervention specialists (CIS) support transit customers experiencing homelessness and struggling with poor mental health conditions or substance abuse.

CIS staff engage individuals directly while riding the system or receive referrals from other CapMetro staff members and members of the community. We help them address housing, food, health care and transportation needs by connecting them with social service resources.
To make sure conflict on the system does not escalate to a dangerous situation.
To allow our customers and operations staff feel safe.
To direct non-criminal incidents to public safety ambassadors and CIS staff rather than police officers.

To maintain all CapMetro property and keep it clean, functional and used as intended.
To fully support anyone experiencing homelessness, mental health crises or other challenges on or near the CapMetro system and give them access to the appropriate services
What should you do if you encounter a person experiencing mental health or substance abuse issues on the CapMetro system?
Practice empathy and avoid making judgements.
If someone is not bothering you but you feel they need help, let us know through our email, community.intervention@capmetro.org so we can follow up with them.
Contact the GO Line at 512-474-1200 if you notice a rider violating our Code of Conduct.

Call 911 if there is an emergency or you feel your safety is in danger.
Join our Safety Team
We have open positions in safety administration, transit police and more. Apply today.

Year 1 Performance Report
View our improvement statistics and progress from the first year of the Community Intervention Program.