Getting You to Q2 Stadium
CapMetro is your ride to Q2 Stadium, for Austin FC games and all other events! CapMetro has you covered with a variety of options to help get you to the fun, stress-free from traffic and finding parking at Q2 Stadium. Reminder: Masks recommended on transit vehicles and while waiting at transit stops.
Upcoming Q2 Stadium Events
CapMetro will operate Special Event Service for the following events at Q2 Stadium:
2023 | Schedule Coming Soon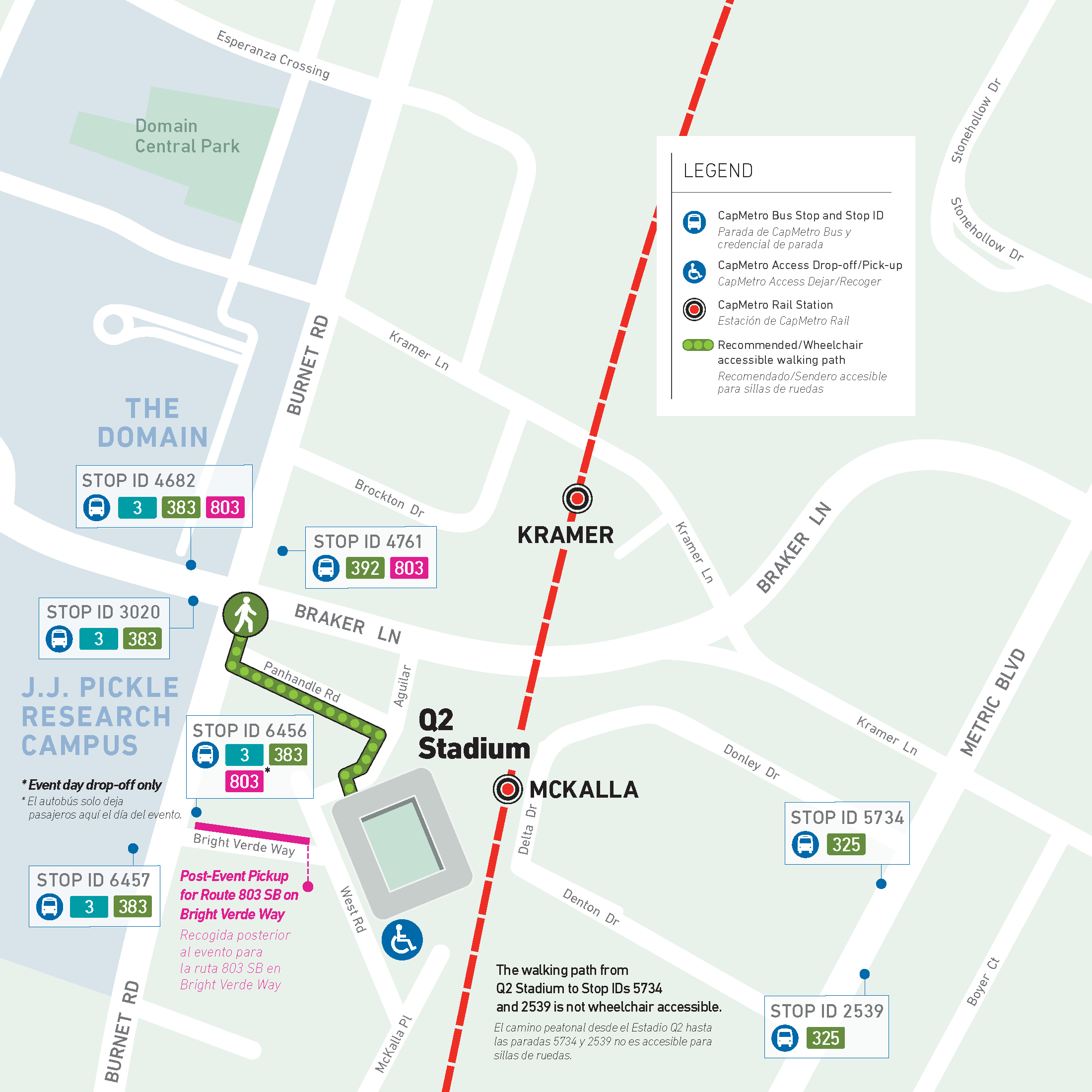 Click to enlarge - Walking Path & Bus/Rail Stations to Q2 Stadium
How to Get to Q2 Stadium Using CapMetro
CapMetro is boosting service on Austin FC game days to help you get to and from the stadium easily and safely. By increasing frequency, you can arrive at the stop on your schedule and know a bus is coming soon. Don't live near any routes that go by the stadium? No problem! We have Park & Ride facilities with buses that can get you to the stands and cheering for the home team.
By Bus
We're increasing frequency on game days for routes near Q2 Stadium. Even if the following routes aren't near you, there are plenty of ways to connect in our system by other routes or through the two nearby Park & Rides.
MetroRapid 803 will operate every 10-15 minutes and drops off in front of the stadium. To help you get home quickly, extra MetroRapid vehicles will line up along Bright Verde Way when the game ends.
MetroBus 3 will operate on its normal schedule and drops off in front of the stadium.
MetroBus 383 will operate on increased frequency of 15 minutes between the two nearby Park & Rides: North Lamar Transit Center and Pavilion Park & Ride. The route drops off in front of the stadium.
MetroBus 392 will operate every 30-35 minutes between Q2 Stadium and Tech Ridge Transit Center.
Easy Trip Planning to Q2 Stadium
Make Q2 Stadium your destination, we'll take care of the rest! For real-time route information, check out our Trip Planner.
---
By Rail
Taking the train to Austin FC games is a great option for those near the Red Line. Fans can take the train to Kramer Station and walk about 15 minutes to the stadium. Upon arrival to Kramer Station, make sure to follow signs leading you to the stadium for the safest, most accessible and optimal walking path.
MetroRail will operate on special event service for weekdays, Saturdays and Sundays. Consult the game day schedules above or our trip planner to plan your MetroRail trip.
---
Park & Ride
Don't live near a route that goes to Q2? No worries! We've got 4 recommended Park & Ride locations with routes to the stadium. Check the travel time for each location below so you can park, ride and arrive right on time!
| | |
| --- | --- |
| Park & Ride Name | Estimated Travel Time |
| North Lamar Transit Center | 11 min |
| Pavilion Park & Ride | 22 min. |
| Tech Ridge Park & Ride | 35 min. |
| Westgate Transit Center | 65 min. |