CapMetro Rail
Ride our extended rail service for events at Q2 Stadium! View schedules.
Why bother with the hassle of sitting in traffic during your daily commute when you can use that time to do what you actually enjoy? Hop on the train and appreciate the scenery, catch up on reading, text with a friend or browse on your phone with the free onboard Wi-Fi.
Rail's 32-mile route is designed to take you to and from your destination, connecting downtown to North Austin to Leander. Whether you are commuting to work downtown, headed to UT or moving between any of the stations on the line, Rail is the comfortable, reliable way to get where you're going.
---
How to Ride Rail
Park & Ride
Check out our Park & Ride locations and look for Route 550 to be connected to a rail station.
Catch a Rail Connector
Most Rail stations are served by bus routes that can take you to your final destination, so you can ride the train and then seamlessly catch a quick bus ride to major employers, shopping and education destinations.
Connector buses will be waiting for you when you arrive via Rail at the following stations:
Take the train to MLK Station and then hop on a Connector bus to take you to the UT campus (Route 465).
At Kramer Station, Route 466 will take you to The Domain or UT's Pickle Research Campus.
---
Purchasing Your Rail Fare
To purchase your fare, use the CapMetro App or visit our Online Marketplace.
We have ticket vending machines at Rail stations with multiple ways to pay including credit cards, debit cards, Apple Pay or Google Pay.
---
Rail Features
Rail includes a number of features that make every ride dependable and comfortable.
Wi-Fi: Catch up on work or your social media with Rail's free Wi-Fi.
Real-time data: Check your exact wait times on the digital signage at every Rail station. Access this real-time information from our Trip Planner, the CapMetro App and the GO Line at 512-474-1200.
Bike racks: Each of our trains has four available racks for you to store your bike while you ride.
---
Upcoming Q2 Stadium Events
Use the Trip Planner to plan your route to the Q2 Stadium. We are operating special event Rail service with supplemental trains on standby to support crowds for the following events:

The 2023 season has ended. Check back here for 2024 games!

---
Red Line Route Schedule
---
Special Event Service
Special event service might disrupt regular Rail service on Austin FC game days and for other events at Q2 Stadium.
---
Red Line Route Map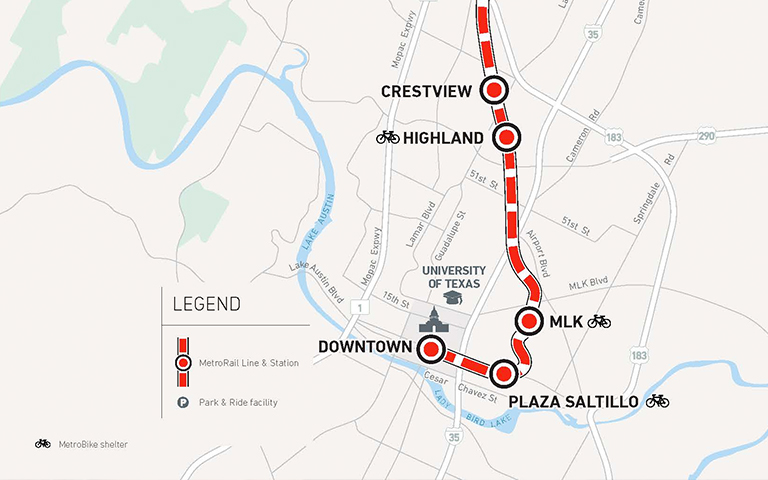 ---
Ride directly to our Downtown Station!
If you're worried about how you'll get home in case of an emergency and thus hesitant to take the train, then we've got you covered. The Guaranteed Ride Home program provides registered Express, Flyer, Rail and RideShare customers with a taxi ride home from work in the event of an unexpected emergency. For an annual membership fee of $5, you can register and get reimbursed for up to 4 emergency taxi rides a year.