Round Rock Service
CapMetro provides bus service to and within the city of Round Rock. Riders may park at the Round Rock Transit Center, located at 300 W. Bagdad Ave., and travel into Austin from there. Regular CapMetro fares apply.
Click on the image to the right to view a map of the routes and the Round Rock service brochure for time tables or visit our Schedules & Maps page.

Notes:
Route 980: North MoPac Express is currently operating at a reduced level in response to the pandemic - Service on MetroExpress Route 980 has been reduced to one trip in the morning and another in the evening so that we can focus our resources where they best serve our customers. Riders may also use Routes 50 and 150 to travel to Howard Station, where they can catch MetroRail into Austin.
Service Changes - The city of Round Rock has implemented changes to the service CapMetro provides, effective Jan. 8. See below for details on our current services.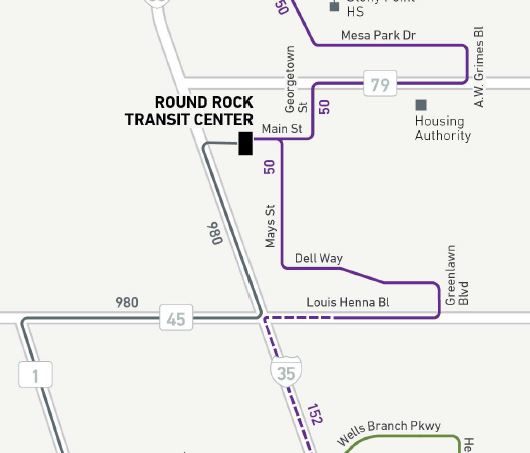 ---
Route 50: Round Rock Tech Ridge
Route 50 travels between Austin Community College's Round Rock Campus and the Walmart at Louis Henna, serving destinations such as the Outlet Mall, H-E-B Plus University, the Sunrise corridor, downtown and the Round Rock Transit Center. Service operates weekdays from 6:15 a.m. to 8 p.m. Southbound trips continue as Route 152 to the Tech Ridge Park & Ride with connections into Austin and Howard Station.
Route 152: Round Rock Tech Ridge
Route 152 travels from the Tech Ridge Park & Ride to the Walmart at Lois Henna, with hourly service weekdays between 6:30 a.m. and 8 p.m.
Route 980: North MoPac Express
Route 980 operates from the Round Rock Transit Center to New Life Park & Ride before heading into downtown Austin.
Paratransit service
CapMetro doesn't provide paratransit service as part of our agreement with Round Rock. Visit the Round Rock Transit website for more information on ADA paratransit in that city. We do facilitate transfer of ADA paratransit riders at Howard Station, though separate fares must be paid for each leg of the trip. If you have further questions, consult our Quick-Start Guide, call MetroAccess at 512-852-7272 or the Customer Service GO Line at 512-474-1200.